Experience a community turning inspired
students into inspired vets.
Experience a community turning inspired students into inspired vets.
A Collaborative & Supportive Community
Be inspired by mentors who've been there, connect with an amazing community of like-minded professionals, and engage with other veterinary students looking to shape the future of our profession.
Experiential Learning Opportunities
Mentorship, fellowships, and real-world experience, you'll find the programs and experience you need to confidently own your future. Everyone gets extra credit.
On-Campus and Off-Campus Events
From campus visits, conferences, or networking opportunities, build a community with Harbor that will stay with you and grow alongside your career in vet school and beyond.
Our collaborative community offers support and mentorship no matter where you are in your veterinary adventure. Experience education, knowledge-sharing, and growth in a whole new way. Together we can shape the future of this profession.
If you're a veterinary student, our programs prepare young, passionate veterinarians like yourself for the realities of our profession — life skills, business acumen, hands-on hospital experience — the things you can't find in a textbook you'll find at Harbor.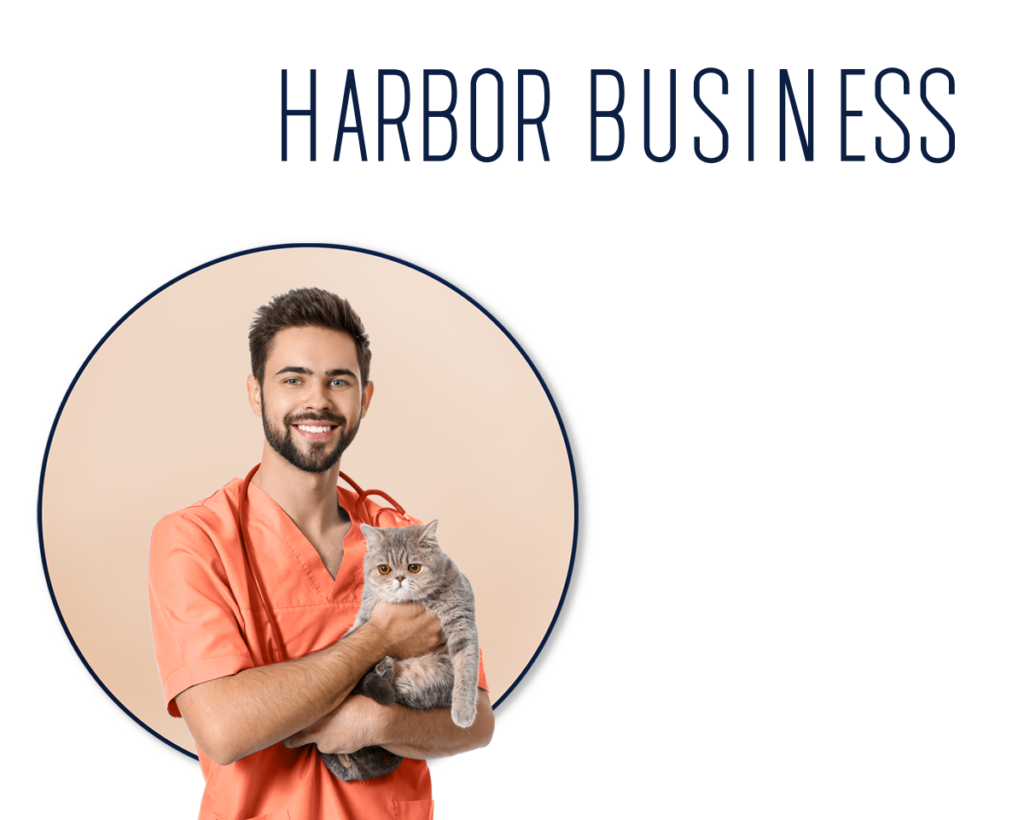 Monthly On-Campus Meetups
We get it. Learning should be done on your own terms. Develop your understanding of practice ownership with other future veterinary leaders with the Harbor Business Experience! Be a part of the wave of students and veterinary professionals learning key business fundamentals as they progress in their careers in veterinary medicine.
Student Hospital Immersion Program
It's time to set sail! SHIP is a veterinary learning experience unlike any other designed to expose you to the fundamentals of practice ownership and business leadership through real-world experiences. From hands-on experience in the hospital to dedicated time for learning and development, get it all in a paid externship learning experience!
On-Campus Student Representative
Being a student Envoy is more than just representing Harbor.vet on campus. It's a one-of-a-kind experience to learn and grow in your understanding of business fundamentals alongside a community of future veterinary leaders. Join a network of students dedicated to changing the future of our profession, become an Envoy!
Two-Year Veterinary Business Fellowship
Graduating vet students, kickstart your career, and begin your journey to practice ownership with Harbor GO! With the profession changing and the business of practice ownership evolving, it's important for you to take ownership of your future. Start taking your next steps to build a better tomorrow with a true career path to ownership.
You're a learner, and we think that's amazing. It's what's got you to the point you're at today and/or what's going to get you to the career you've always dreamed of. At Harbor.vet, our goal is to support you on your journey to becoming the best version of yourself, so whether it's Business Management, Client Engagement, Diversity & Inclusion, or anything else for that matter, we want to provide the tools and resources to make sure you can keep on learning as a veterinary professional.
Harbor.vet isn't just a website or a company. It's a collective of individuals who are passionate about developing the future of the veterinary industry. Meet the faces that make Harbor.vet possible!
Jeff Thoren, DVM, PCC, BCC